Leicester Police Department Receives Personal Protective Equipment From the Spirit of Blue Foundation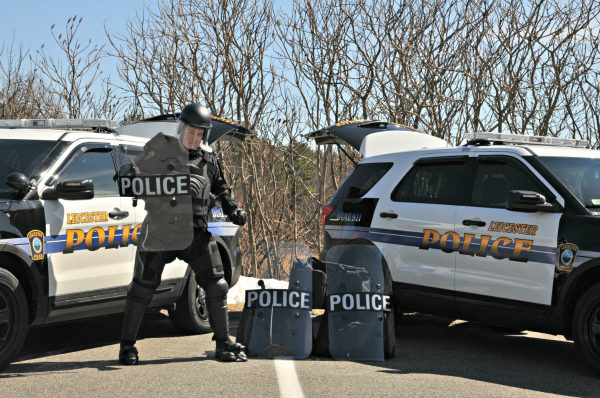 Image Caption – The Leicester Police Department is staging the five sets of granted protective equipment in portable gear bags in their patrol cars for quick deployment.  Included are Damascus FlexForce suits, Damascus Vector gloves and impact-resistant protective shields.
WORCESTER, MASSACHUSETTES – April 11, 2017 – The Spirit of Blue Foundation announced that it has awarded a Safety Equipment Grant to the Leicester Police Department (LPD) for the purchase of personal protective equipment.  LPD received five sets of Damascus FlexForce riot control suits, Damascus Vector gloves and clear impact-resistant riot control shields, valued at $5,691.25.  The equipment will enable LPD officers to adequately protect themselves when responding to riots, protests and other incidents requiring crowd control.
"The Leicester Police Department would like to thank the Spirit of Blue Foundation for providing us with this protective equipment.  The equipment affords officers additional protection in a variety of different scenarios," said Chief Jim Hurley of the Leicester Police Department.  "The equipment has been placed in 'go bags' so that it can be rapidly deployed to officers in Leicester or to other law enforcement agencies in surrounding communities.   The purchase of this equipment, by the Spirit of Blue Foundation, shows that they truly have law enforcement's back."
Funding for the grant was provided by a generous gift from The Dunkin' Donuts & Baskin-Robbins Community Foundation (DDBRCF), which serves our neighborhoods through children's health, hunger relief and safety. Since 2006, together with Dunkin' Brands franchisees, The DDBRCF has awarded $11 million in grants to local charities such as food banks and children's hospitals.  In total the DDBRCF has enabled Spirit of Blue to make 17 Safety Equipment Grants throughout New England with a total value of more than $100,000.
"Sadly, there are too many examples of speech transitioning into violence, and our nation's police officers are put at risk when having to respond to keep the peace," said Ryan T. Smith, Executive Director of the Spirit of Blue.  "Further, the Leicester Police are planning to lend this equipment to neighboring agencies at a moment's notice when they are faced with similar situations, so the impact of this grant will be felt well beyond just this city."
Statistics released by the National Law Enforcement Officers Memorial Fund show that 135 law enforcement officers lost their lives in 2016, an increase of 10% from the prior year.  64 of those officers were firearm related fatalities, representing a 56% increase over 2015.  53 were lost as a result of a traffic related incident.  The reality of these statistics, and the increasing number of underfunded law enforcement agencies across the country, fuel the Spirit of Blue safety grant initiative.
The Spirit of Blue Foundation actively encourages the public at large to honor and appreciate law enforcement officers who serve to protect our communities.  By supporting the Spirit of Blue Foundation, the public can make an impact in the lives of law enforcement officers every day. To learn more about the Spirit of Blue, or make a donation, visit www.spiritofblue.org.