Tipton County Sheriff's Office Receives K9 Safety Grant From the Spirit of Blue Foundation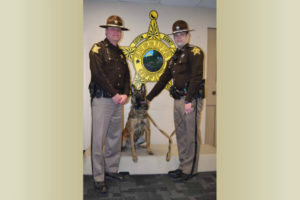 Image Caption – Sheriff Tony D. Frawley (left) and Deputy William D. Cline (right) surround K9 Nelson who has quickly made a name for himself as a valuable asset for the Tipton County Sheriff's Office.
TIPTON, INDIANA – April 5, 2017 – The Spirit of Blue Foundation announced that it has awarded a K9 Safety Grant to the Tipton County Sheriff's Office (TCSO) to train their acquired K9 service dog.  The new dog, K9 Nelson, is serving with handler Deputy William Cline who has served with TCSO for 2 years.  K9 Nelson is a dual purpose dog trained in tracking, apprehension and narcotics detection.  The $3,000 grant was sponsored by the Planet Dog Foundation, the charitable arm of dog toy and accessory manufacturer Planet Dog, who has given over $1 million dollars to organizations that bring people and dogs together for fun and mutual support. 
"The Tipton County Sheriff's Office greatly appreciates the grant it has received from the Spirit of Blue Foundation," said Tipton County Sheriff Tony Frawley.  "The grant allowed K-9 Nelson to complete his training and become a valuable asset to the Sheriff's Office. Deputy Cline and K-9 Nelson proudly serve the residents of Tipton County each and every day and continually work to make Tipton County a safe place to live and work."         
K9 Nelson is a 3-year old Belgian Malinois who was bred in the Netherlands.  He finished his basic training at Von Liche Kennels in Denver, Indiana before going through his final training at a K9 academy offered through the Delaware County Sheriff's Office in Muncie, Indiana.  On his very first night on duty, K9 Nelson hit on a car during a traffic stop indicating there were narcotics present.  The search of the vehicle revealed four plastic baggies containing a tannish-white granular substance.  Around the baggies were dryer sheets used in an attempt to cover the substance's odor.  The owner of the vehicle told deputies the substance was the chemical used in creating the synthetic drug commonly known as "Spice".  In total 12.5 ounces of the substance was located and the driver of the vehicle was arrested on possession charges.
K9's bring an auditory and olfactory advantage to police work, able to track subjects and identify articles not easily found by their human counterparts.  But, all K9's are trained to protect their handlers, making them an effective less lethal force option while enhancing the safety of officers on duty.  When not on duty, K9 Nelson resides with Deputy Cline at his home as the family pet.
"The TCSO was very resourceful in working with their local businesses to raise the funds to acquire K9 Nelson," said Ryan T. Smith, Executive Director of the Spirit of Blue.  "But when they contacted us and shared that they lacked the funding for the final training phase we sprang into action to get that piece in place and get K9 Nelson and Deputy Cline out working on the road together.  It is wonderful to see so clearly the direct impact that our granting ability makes for agencies such as this one."
Statistics released by the National Law Enforcement Officers Memorial Fund show that 135 law enforcement officers lost their lives in 2016, an increase of 10% from the prior year.  64 of those officers were firearm related fatalities, representing a 56% increase over 2015.  53 were lost as a result of a traffic related incident.  In addition, the Officer Down Memorial Page reported that 25 K9 working dogs were lost in 2016 as well.  The reality of these statistics, and the increasing number of underfunded law enforcement agencies across the country, fuel the Spirit of Blue safety grant initiative.
The Spirit of Blue Foundation actively encourages the public at large to honor and appreciate law enforcement officers who serve to protect our communities.  By supporting the Spirit of Blue Foundation, the public can make an impact in the lives of law enforcement officers every day. To learn more about the Spirit of Blue, or make a donation, visit www.spiritofblue.org.