Longmeadow Police Department Receives Safety Grant From The Spirit of Blue Foundation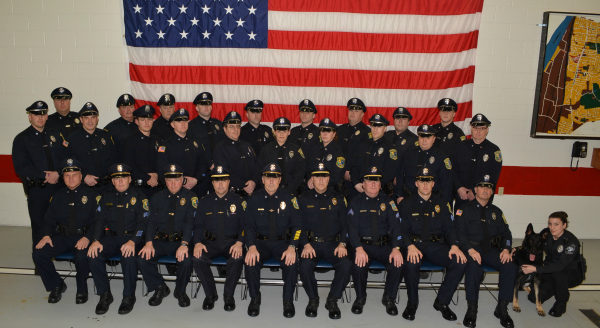 SPRINGFIELD, MASSACHUSETTS – June 12, 2017 – The Spirit of Blue Foundation announced that it has awarded a Safety Grant to the Longmeadow Police Department (LPD) to add a Closed Circuit Television (CCTV) monitoring capability to their department.  The high-definition camera system from Panasonic was installed at the Blinn Court Tennis Courts in concert with the recent refurbishment of the courts and parking lot.  Now that they are in place they will monitor the tennis courts and high traffic areas to help officers ensure those areas are clear of crime and traffic issues while temporarily recording footage for evidentiary purposes in the event a crime is committed within their view.  The grant is valued at $3,480.
"An 'extra set of eyes' is invaluable in our line of work and this grant award assisted the LPD in safe guarding and maintaining Longmeadow's resources," commented Lt. Robert Stocks of the Longmeadow Police Department.  "Having cameras at the town's center will ensure our officers' safe and quick response to calls for service." 
The Panasonic Security System i-Pro WV-SFV631L cameras capture full 1080p high definition video with day and night infrared capabilities to ensure optimal video capture at any time.  Video footage is able to be monitored inside the station on remote viewing screens and is stored for later review.  In the event that a crime is captured by the cameras, that video footage will be available to be used as evidence during any subsequent prosecution.
"One of the things I like most about how we grant equipment is that we meet the individual needs of the agencies we work with," explained Ryan T. Smith, Executive Director of the Spirit of Blue Foundation.  "In this case, what the Longmeadow Police needed was a great remote monitoring solution and we were able to secure that for them swiftly."
Funding for the grant was provided by a generous gift from The Dunkin' Donuts & Baskin-Robbins Community Foundation (DDBRCF), which serves our neighborhoods through children's health, hunger relief and safety. Since 2006, together with Dunkin' Brands franchisees, The DDBRCF has awarded $11 million in grants to local charities such as food banks and children's hospitals.  In total the DDBRCF has enabled Spirit of Blue to make 17 Safety Equipment Grants throughout New England with a total value of more than $100,000.
Statistics released by the Officer Down Memorial Page show that 58 law enforcement officers have already lost their lives in 2017, an increase of 26% so far from the prior year.   20 of those deaths were firearm related, a 5% increase over the same period in 2016.  The reality of these statistics, and the increasing number of underfunded law enforcement agencies across the country, fuel the Spirit of Blue safety grant initiative.
The Spirit of Blue Foundation actively encourages the public at large to honor and appreciate law enforcement officers who serve to protect our communities. By supporting the Spirit of Blue Foundation, the public can make an impact in the lives of law enforcement officers every day. To learn more about the Spirit of Blue, or make a donation, visit www.spiritofblue.org.
Image Caption – The officers of the 30-member Longmeadow Police Department pose in front of their department seal.  The new Panasonic Security System cameras provide visibility to a newly renovated area of their town.