Cambridge Police Department Receives Body Armor Grant From The Spirit of Blue Foundation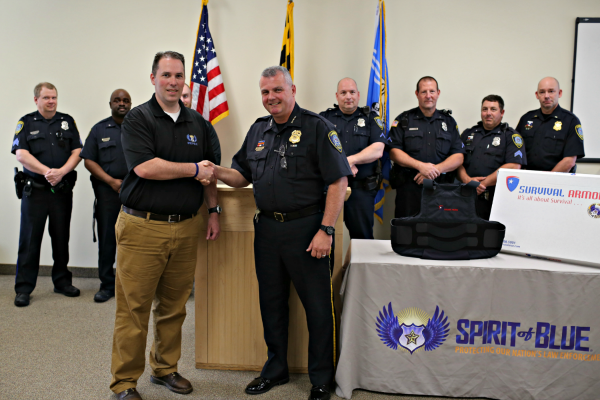 Image Caption – Ryan T. Smith, Executive Director of Spirit of Blue (left) presented the Safety Equipment Grant of 13 ballistic vests to Chief Mark Lewis of the Cambridge Police Department (right) at the City of Cambridge Department of Public Safety Building.  Standing behind are a number of the officers who received new vests through the grant.
CAMBRIDGE, MARYLAND – May 24, 2018 – The Spirit of Blue Foundation announced that it has awarded a Safety Grant to the Cambridge Police Department to replace 13 outdated ballistic vests for their officers.    The body armor was purchased through Survival Armor and the grant was funded by a partnership with Law Enforcement United.  The vests have already been put into use and the grant is valued at $20,969.
"I am extremely thankful to the Spirit of Blue Foundation for these ballistic vests.  It is so important that officers are equipped with the best possible gear which will help keep them as safe as possible in the performance of their duties," stated Chief Mark Lewis of the Cambridge Police Department.
The Survival Armor Plexus Level II body armor provides officers with exceptionable protection that is both lightweight and comfortable to wear.  Each vest comes with two outer carriers to be rotated and a soft trauma pack to absorb energy from an impact which provides additional protection.  This body armor has been further tested against a number of special threat rounds that exist in the market and has proven to be effective in protecting against penetration from those as well. 
"Every police officer in America simply needs effective and current body armor," explained Ryan T. Smith, Executive Director of the Spirit of Blue Foundation.  "When agencies are operating with extremely tight operating budgets, and they have to make tough choices about what safety equipment to fund, it puts them in a difficult position.  We are pleased to be able to step in and replace these vests that are expiring so these officers have the confidence to do the valuable work they do in their community."
Law Enforcement United (LEU), the grant's sponsor, is an organization of 1,000 active and retired police officers who honor fallen officers and raise funds to assist charitable organizations that serve the law enforcement community.  Each year members of the organization ride 250 miles or more into Washington, DC to participate in National Police Week events and carry flags in honor of each fallen officer which are given to the surviving families upon their arrival.  Since its founding in 2009, LEU has raised over $5,750,000 for law enforcement causes.
Statistics released by the Officer Down Memorial Page show that 60 law enforcement officers have already lost their lives in 2018.  28 of those deaths were firearm related, a 47% increase over the same period in 2017.  The reality of these statistics, and the increasing number of underfunded law enforcement agencies across the country, fuel the Spirit of Blue safety grant initiative.
The Spirit of Blue Foundation actively encourages the public at large to honor and appreciate law enforcement officers who serve to protect our communities. By supporting the Spirit of Blue Foundation, the public can make an impact in the lives of law enforcement officers every day. To learn more about the Spirit of Blue, or make a donation, visit www.spiritofblue.org.