LMT Defense Pledges $25,000 in Annual Support to Spirit of Blue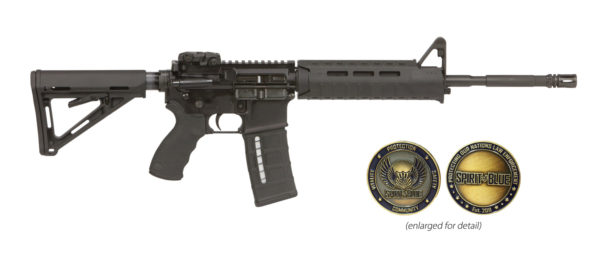 Image Caption – LMT Defense will be donating $100 from the sale of each SPM16LE rifle, distributed through Kiesler's Police Supply.  In total, LMT has pledged $25,000 in support for Spirit of Blue through product sales and social media fundraisers each year going forward.
ROCHESTER, NEW YORK – September 20, 2017 – The Spirit of Blue Foundation is pleased to announce that LMT Defense (Lewis Machine & Tool Co.) has pledged $25,000 in annual support of Spirit of Blue and its work to protect law enforcement officers nationwide.  The donation is being generated primarily through sales of a special edition law enforcement patrol rifle through Kiesler's Police Supply, affordably priced for police officers who aren't issued rifles and must purchase their own for duty use.  LMT Defense also has planned an assortment of other social media fundraisers to help generate the funds.  LMT Defense began its sponsorship of Spirit of Blue in 2016 with a donation of 3 patrol rifles for the Cicero (NY) Police Department.
"Spirit of Blue is a great organization that we enjoy working with, allowing us to give back to law enforcement," said Karl Lewis, founder and President of LMT Defense.  "Our new LE rifle program is a tangible for us to provide high quality products to those that need them the most while providing funding to Spirit of Blue who is involved in protecting officers in other important ways."
The SPM16LE, a variant of the SPM16 model, is available to law enforcement officers at a price of $911.00 and is enhanced with Magpul MOE Handguard, MOE Stock, and Rear MBUS flip sight, all in black.  This gives patrol officers a pre-configured rifle that will perform well on its own or ready to accept a variety of aftermarket accessories to enhance performance even further.  The rifle ships with a standard GI sling and one 30-round magazine, in addition to a Spirit of Blue challenge coin.  $100 from the sale of each rifle will be donated to Spirit of Blue.
LMT Defense has a rich history of equipping America's law enforcement community with high-performance firearms, ranging from federal agencies down to small, municipal police departments.  Through its innovative design engineering capabilities and exceptional manufacturing platform, LMT Defense has been widely adopted around the world as one of the few preeminent firearms manufacturers for foreign militaries, presidential security details and national police agencies, selling to over 43 countries.
"When we first shared about our work with LMT and the needs for increased safety equipment across the law enforcement community they were very quick to pledge their support," commented Ryan T. Smith, Executive Director of the Spirit of Blue.  "LMT Defense is known the world over as producing an incredibly high quality and high performing product.  It is exciting to think that officers without issued rifles will be able to get an LMT rifle at such an affordable price.  And, that each one will generate another $100 for us to help protect even more officers – that was unexpected!"
Since 2011, the Spirit of Blue Foundation has awarded 47 grants in 24 states valued at over $200,000.  The grants have varied from patrol rifles, body armor, riot control gear, AED's, K9's, forensic software, flashlights, Police/Youth Dialogue training, night vision optics, LED flares, ballistic helmets and self-contained breathing apparatus.  The Spirit of Blue Foundation deeply appreciates the generosity and support of partners like LMT Defense that enable this work to proceed.