2017 Tourniquet Project
In 2017, Spirit of Blue is working towards granting 1,000 tourniquets with belt holders to law enforcement agencies across the country.
Tourniquets are vital pieces of medical equipment that officers and deputies require on the road in the event of a traumatic injury to an extremity. When only precious minutes exist to treat such an injury, tourniquets are able to be applied individually or on a co-worker to prevent excessive blood loss until that individual can be placed into medical care.  As a secondary benefit, officers and deputies who carry a tourniquet are also able to use them to rescue a member of the community who may have experience a similar type injury as happened in Monroe County, New York in July of this year with a tourniquet that Spirit of Blue granted in October of 2015.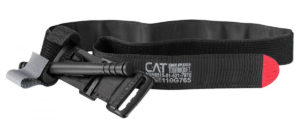 The C-A-T Tourniquet, manufactured by North American Rescue, has proven to be 100% effective in occluding blood flow in both upper & lower extremities by the U.S. Army's Institute of Surgical Research and has been the official tourniquet of the U.S. Army since 2005.  The duty belt holder, manufactured by Blue Force Gear, is constructed with their proprietary, lightweight ULTRAcomp material and was specially designed for Spirit of Blue's Tourniquet Project campaign to hold the C-A-T Tourniquet.  To date, Spirit of Blue has granted 463 C-A-T Tourniquets since its first tourniquet grant in 2014.
For every $30 that is donated through this fundraising campaign one tourniquet and belt holder will be granted to an officer who needs one.